Cruelty-free Cosmetics
Orientation in the jungle of lists and seals
Vegan, 98% of raw materials of plant origin, free of animal testing, natural cosmetics, with organic active ingredients... there are endless cosmetic products on the market. And the claims, advertising promises, and seals are just as endless - but which cosmetics are really free of animal suffering? Doctors Against Animal Testing sheds light on what to look out for when buying cosmetics.
According to the EU directive, it has been forbidden by law since 2013, to test cosmetic raw materials or cosmetic products on animals and such products are not allowed to be imported into the EU either (1). However, this only applies to substances used exclusively for cosmetics - and that's only about 10% of the total ingredients.
According to recent findings, it is probably even much less than that as not a single new raw material has been approved that is used exclusively in cosmetics since the Cosmetics Regulation came into force. Is this due to the ban on animal testing hindering innovation or because the companies state a different purpose in order to be able to carry out animal testing after all?
The main issue here is that even natural, vegetable oils such as jojoba oil, which has been used for hundreds of years as a skin care product, are not only used in cosmetics but also in industry - and are thus automatically classified into a different category (i.e. a chemical). Therefore, they may be tested on animals. The same applies to UV-filters, for example, which are not exclusively used in sunscreen products but also in plastic packaging. In sunscreen lotions, they prevent sunburn of the skin; in coloured plastic packaging, they prevent the colour from fading (2).
Moreover, this directive only applies to cosmetics marketed in the EU. Unfortunately, a worldwide ban on animal testing in cosmetics is not yet in sight. There are still some countries where animal testing is not only allowed but is mandatory for all cosmetics.
In this context, China is usually cited as an example. Indeed, the Chinese authorities do not trust animal test results from abroad and test imported products on animals "on precaution". However, there has already been small progress: the country has relaxed its requirements with regard to skin-care products (without any special function) that are produced domestically for the Chinese market. In concrete terms: normal face cream does not have to be tested on animals, but sun cream ("functional cosmetics") does. China is a profitable market for cosmetics, so selling products there is extremely appealing to many companies and corporations.
Since May 2021, even companies that have so far avoided this market for ethical reasons could currently be able to import to China: it is possible now to import caring cosmetics for normal use to China without animal testing being mandatory by Chinese law under certain conditions.
However, there are also companies that refuse to conduct animal testing as a matter of principle. They do not carry it out themselves, and do not condone it - and have thus voluntarily waived the Chinese sales market (and similar markets) so far in favour of animal welfare. These are often organic cosmetics companies or small manufacturers that work independently of corporations. Their foundation is connected to high ethical claims regarding the environment, and moral obligation to humans and animals.
But how do you identify these companies and their products?
Seals provide security
Since you can't necessarily rely on a manufacturer's voluntary self-disclosure which doesn't have any independent verification, we generally recommend to look for official seals for guidance.
But there are pitfalls: many companies "invent" and create their own symbols that look like seals, which they print on the packaging to gain the consumer's trust. Keep in mind: what is advertised may well be true, but it is not controlled! These seals are often designed in a way that the consumer interprets the seal being an official and controlled one, though it is not.
Since there are various seals, one quickly can lose track. Therefore, we have summarized the most common ones in an overview table. (Note: there may be additional official seals depending on the country – we recommend to carefully check these seal criteria as official, trustworthy seals are transparent with their standards and offer that information on their website.)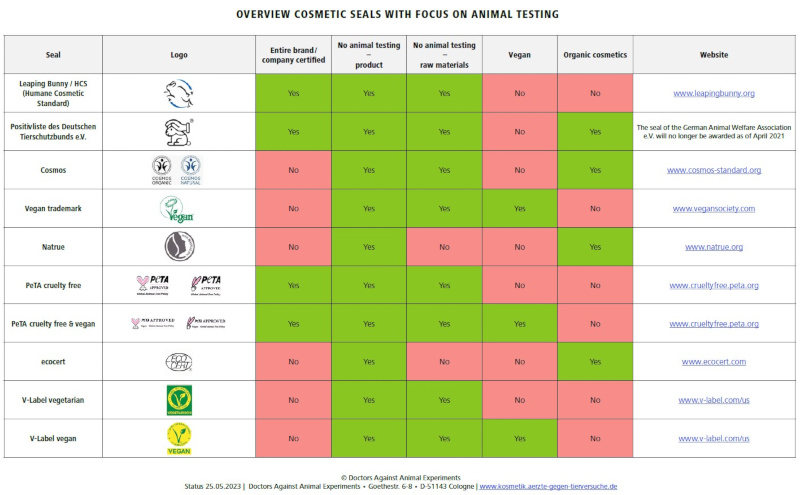 Click to open PDF in new Window
We recommend buying cosmetics with the highest standards for animal testing-freedom, so in this case: the greener, the better.
In the table, we have limited the selection to well-known seals, so there is no guarantee for completeness.
It should be borne in mind that small manufacturers or companies that have just been founded often do not have the financial means to get certified The certification is not free, as independent experts examine and control the respective enterprise and/or the products as well as the raw materials used. This is important as it ensures that the criteria are actually met. If this is the case, the product may adorn itself with the respective seal.
Caution: "vegan" does not automatically mean "cruelty-free" (= no animal testing)! "Vegan" does only state that the product does not contain any ingredients of animal origin (animal collagen, honey, milk proteins, shellac, carmine, ...). If you want to avoid animal substances of any kind, you should also look for one of the vegan seals.
Conclusion
Nowadays, there is a large number of brands that make sure that neither the entire product (by law anyway) nor the raw materials are tested on animals and they do not accept that their products could be tested in other countries. These companies should be given preference.
Dipl. Biol. Julia Radzwill
edited 25 May 2023
References
(1) EU Commission: Regulation (EC) No 1223/2009 of the European Parliament and of the Council of 30 November 2009 on cosmetic products. https://eur-lex.europa.eu/legal-content/EN/ALL/?uri=celex%3A32009R1223 (page accessed 24.05.2023)
(2) Wikipedia: Plastic. https://en.wikipedia.org/wiki/Plastic (page accessed 24.05.2023)